Every face tells a story – from innocence to wisdom, from anger to joy, and everything else in-between. All the love, but also all the pain we experienced is captured. It´s shaping our view of the world, and part of that is being imprinted in our face.  If you look carefully, you can read some of it all from the other person's eyes.
Taking photographs of people have the power to capture the moment of people's lives. The way we feel in a particular moment, that is never coming back again. A photograph can capture so much more than words could.
Let me take you with me on a journey to Kerala, India. I witnessed how people live, how they work and what is particular for their society. These are 25 most thriling encounters from my trip:
01 | Village life
River is very important in the life of villagers in in Kumarakom. You will spot kids having their bath there and women doing their laundry.
02| Blessing 
Tilaka, ritual mark on the forehead, is applied during the welcoming ceremony as a sign of blessing. It's applied between the eyebrows – this spot is  considered the seat of latent wisdom and mental concentration, and is very important for worship.
03| Like at home
There is no better occasion to experience a way of life in a country better than staying at the local host. I spend two days at Pranavam Homestay , this picture shows Rema, my housemaster.  She was little shy, I loved to watch her prepare the food. Once she prepared a lunch when all ingredients were prepared on banana leaf!
04| Wrapped up
The first statues to depict sari-wearing women date back to 100 BC. This traditional dress worn by women in India, consisting of a single piece of fabric up to 8 meters long, is one of the oldest known items of clothing that is still in use
05 | Energetic dancer
It's really interesting to watch the performances in Kerala. The dresses are always very colorful, the performer usually dances to the sounds of drums. This one put all his energy into it!  I watched this show at Vythiri Village.
06 | Selfie time
People in Kerala (and many other parts of India),  love to take selfies with the foreigners. It happened nearly every day, that I was approached by locals and asked for a selfie. This one was taken at the beach in Kovalam.
07 | Ayurveda
For thousands of years, people in India have turned to the holistic, traditional system of Ayurveda for healing and relaxation. If you come to India to experience it, this is how your treatment rooms will look like.
08 |  Traditional masks
This picture captures my first encounter with actors of Kathakali, traditional Indian dance drama. It was one of my first days in Kerala and this really caught my attention. I did not fidn the courrage to talk to the dancers, so I kept observing.
09| The red eyes
The make up fo Kathakali is very elaborate, it can take up to 3 hours to put it and has severals tages. The subtsances are all supposed to be made from herbs and natural resourses, yet, I noticed this actor's eyes must have be really disturbed and possibly painful.
10| "Hi! What's your name?" 
How couldn't I include this picture? Suddenly surrounded by cute school kids, I had to chance to keep shotoshooping:)
11|Bamboo workshop
This picture was taken at Uravu, NGo that is helping women in the countryside to find a work. Inside this workshop, various items for decoration or daily needs are being produced (yoga mats, furniture, etc).
12| A welcome dance
Dancing few times separately, and then also together, these two women performed a welcome dance. After the performance, I asked for my photograph. Othersie being very shy, they made a pose and let me to take this shot.
13| Temple festival I.
It's been a decent amount of time since my short trip to Kerala, India, yet I remember each moment, each sweat bead, each flavor, and each sound so vividly. I could talk your ears off about it over coffee any day. However, I think the best way to show you my trip is through photos. The cacophony of colors and noises and smells in this complex country are summed up best with imagery.
KOCHI (Fort Kochi and Mattancherry)
Our first two days were spent wandering the streets of Fort Kochi and Mattancherry in the Keralan city of Kochi (or Cochin). As it was off-season, many shops were closed up and western tourist numbers were very low. We did have to work harder to find places to eat, but the quiet and relative peace, especially in a country known for chaotic city streets, was highly appreciated.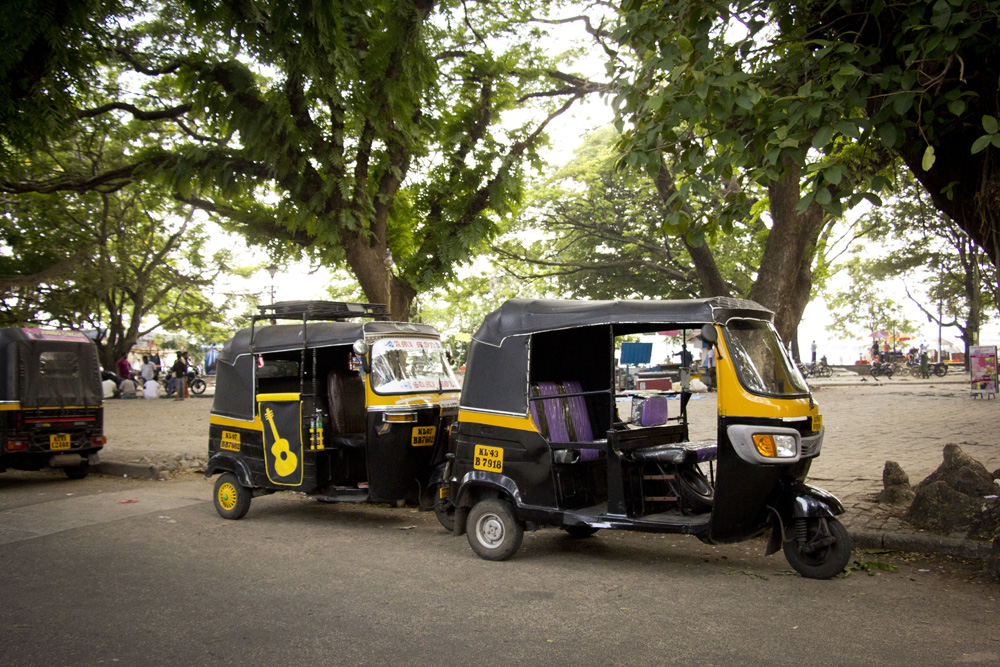 Auto rickshaws parked along Fort Kochi's Children's Park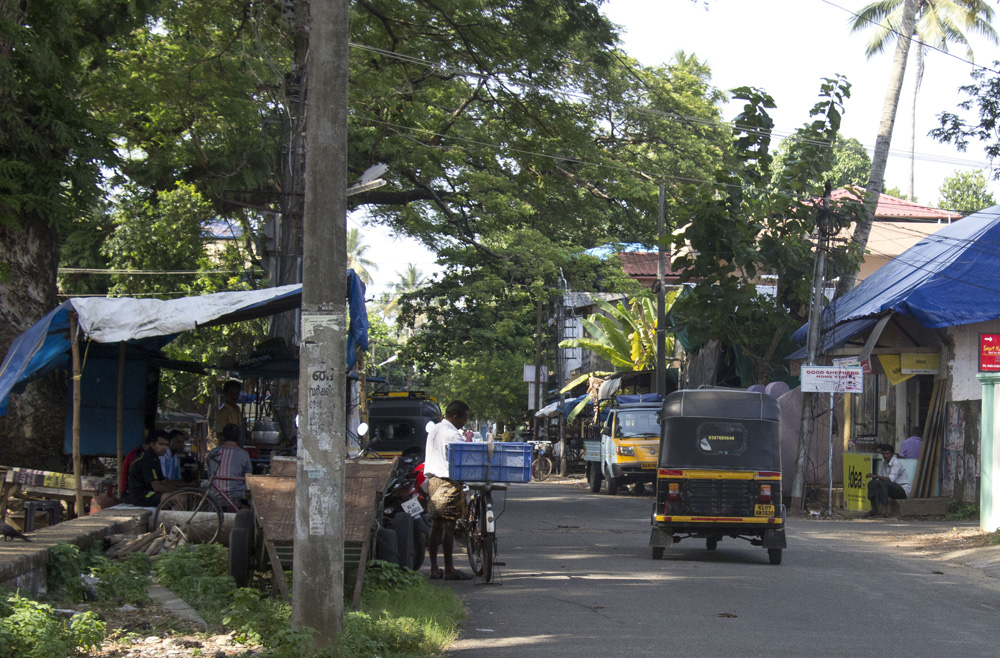 Saturday morning traffic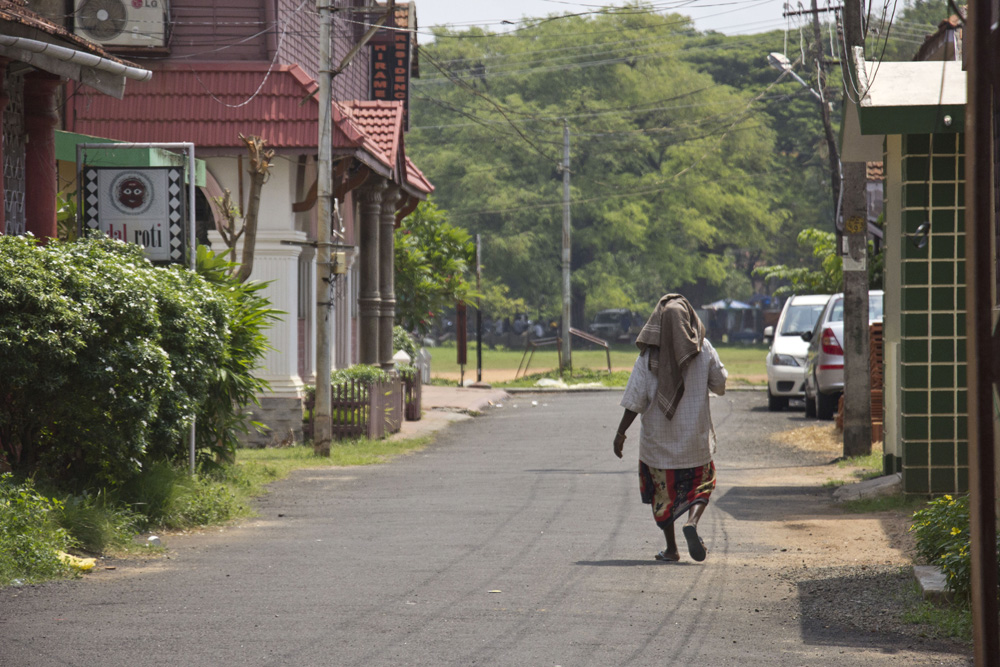 Quiet streets on an unbelievably hazy humid day.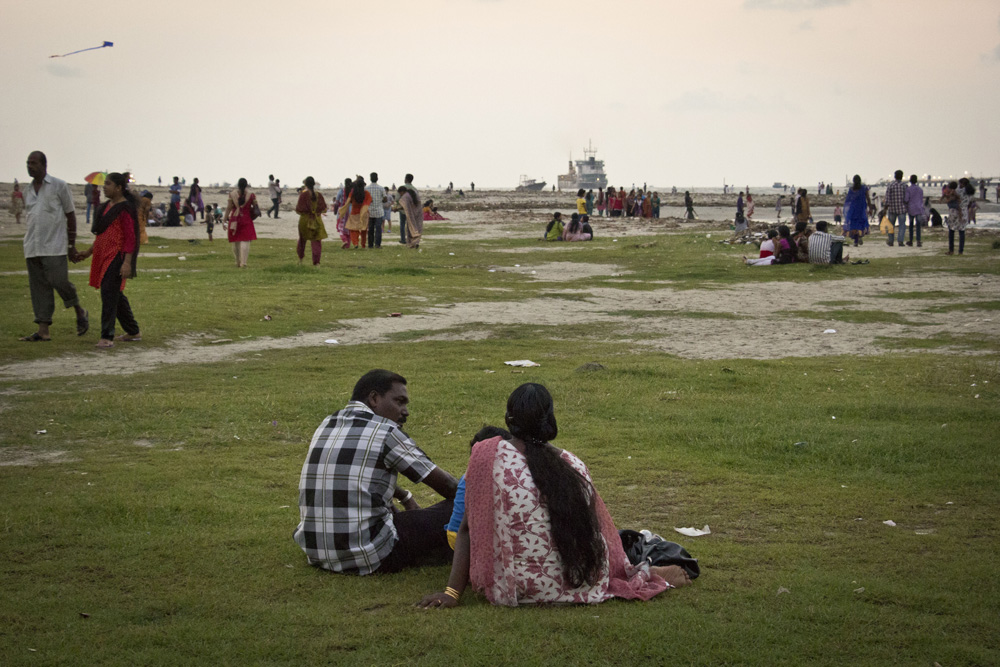 Family time at dusk along the water.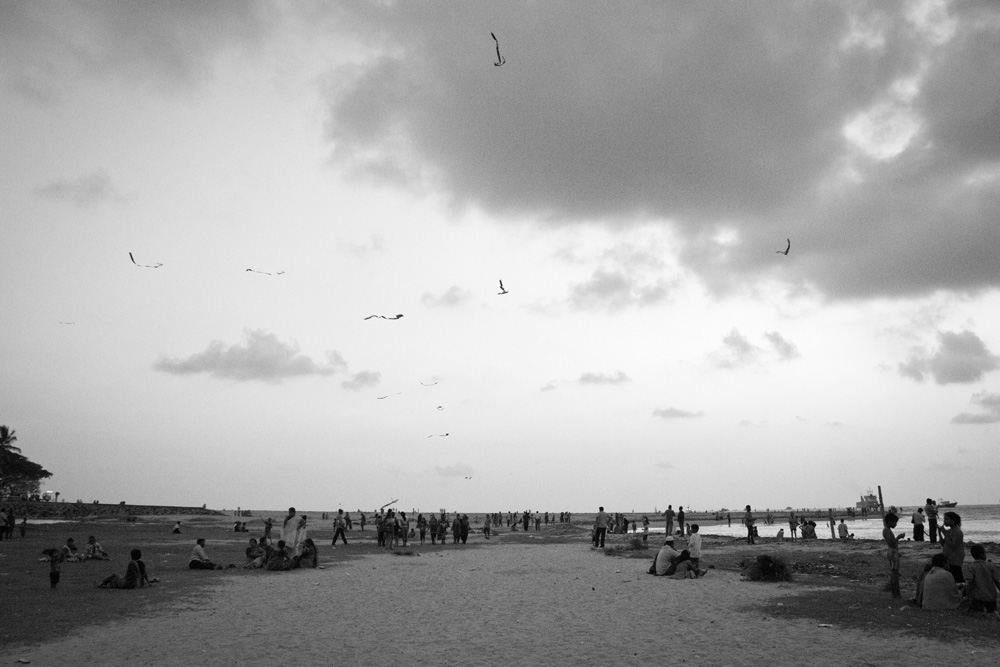 Kites fly in Fort Kochi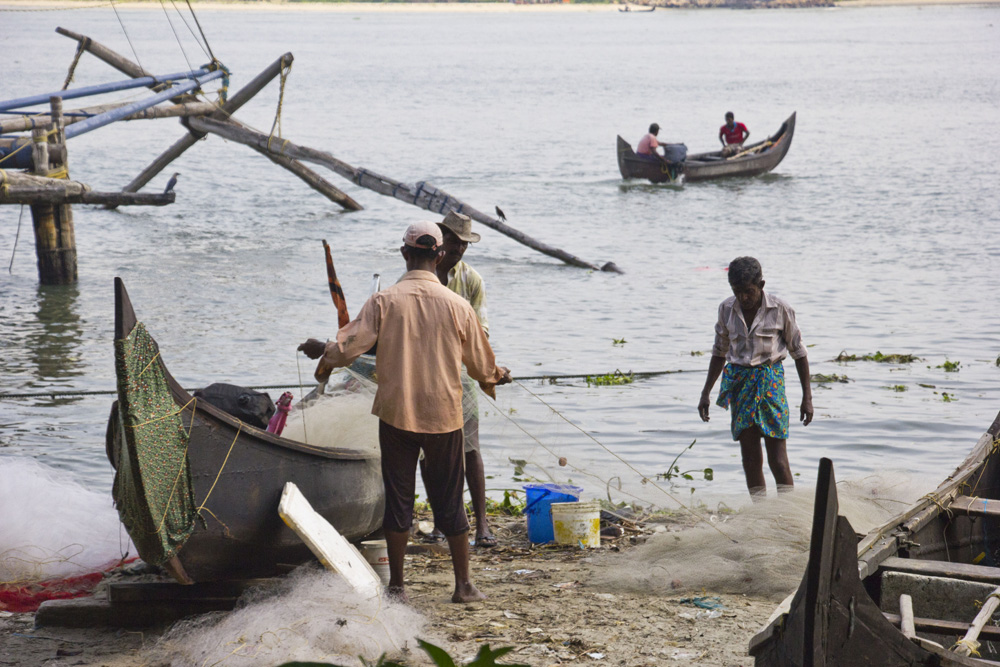 Fishermen preparing Fort Kochi's iconic Chinese fishing nets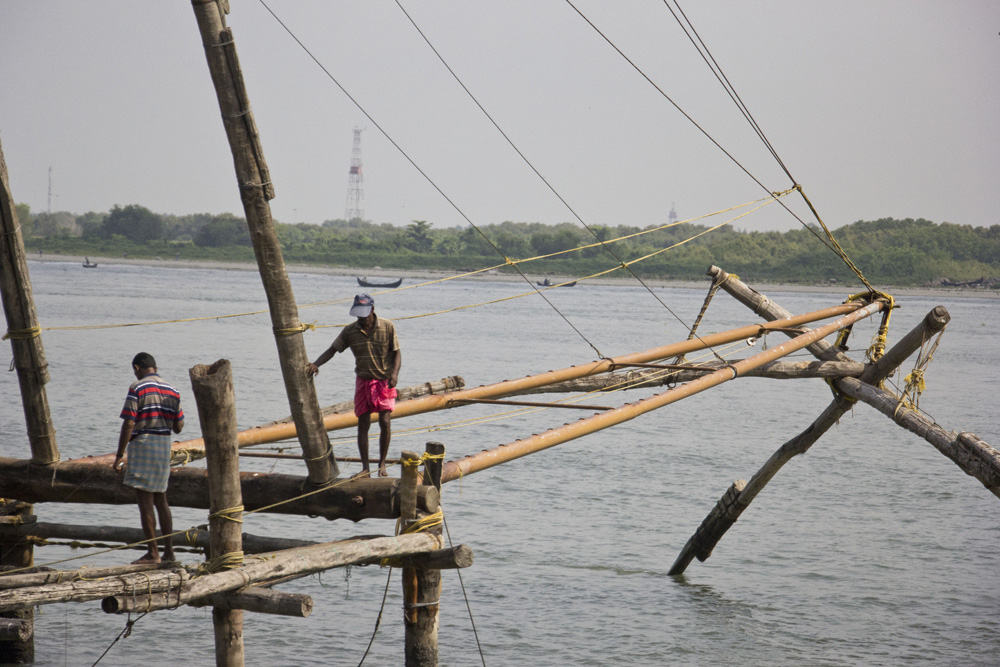 Manning the nets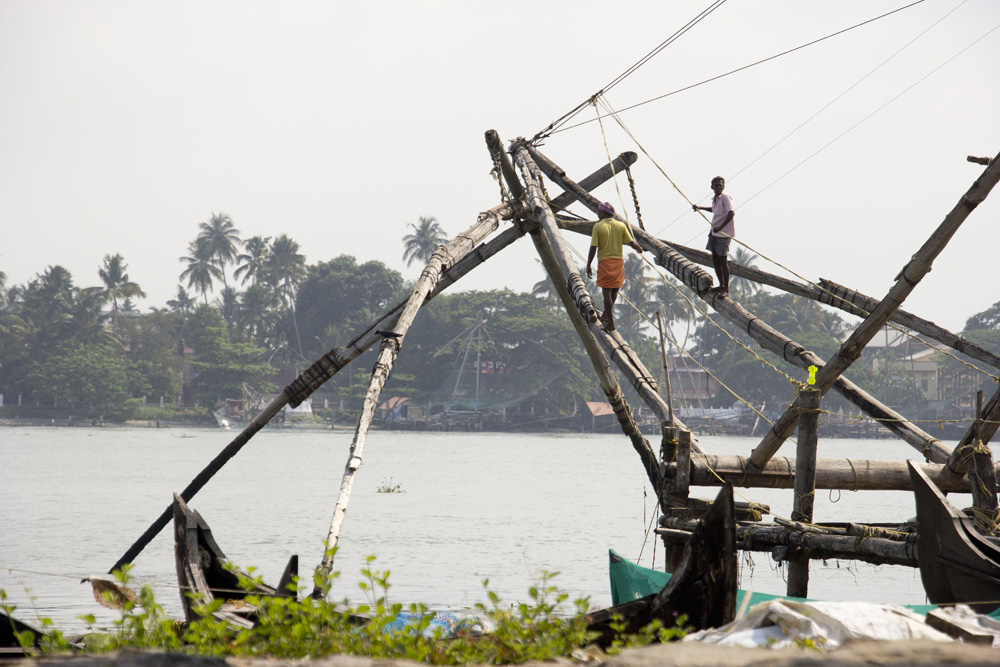 Fishing
The Chinese fishing nets are probably the most well known thing about Fort Kochi and definitely were the highlight for me. Seeing them in action during the day is fascinating as they are complicated contraptions that require a handful of people to operate, but seeing their silhouette in the colorful Indian sunset was far more memorable. It's an image I had burned in my head from travel blogs and guidebooks I read as I planned our trip, and it was a thrill to be able to see in person. I was, however, a little disappointed in the amount of trash there was strewn along the shoreline and all along the pathway. I mean I know it's India and that kind of thing is commonplace here – even in Kerala – but that doesn't make it any better.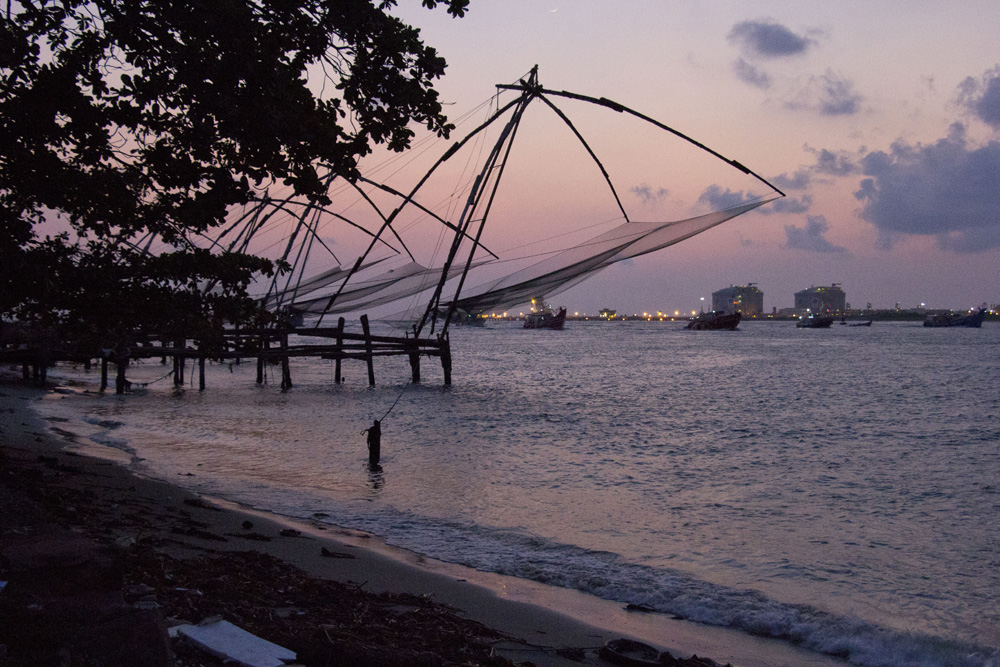 Purple sunset colors at the Chinese fishing nets.
In the nearby neighborhood of Mattancherry, the narrow streets are brightened by the chaos of the port and the movement in the markets. Between the spice market (not a ton to see in off-season but it is still interesting as it's near the port and port shops), Jewtown (literally the old Jewish quarter), the historical museum, and the shopping, it's definitely worth a walk around.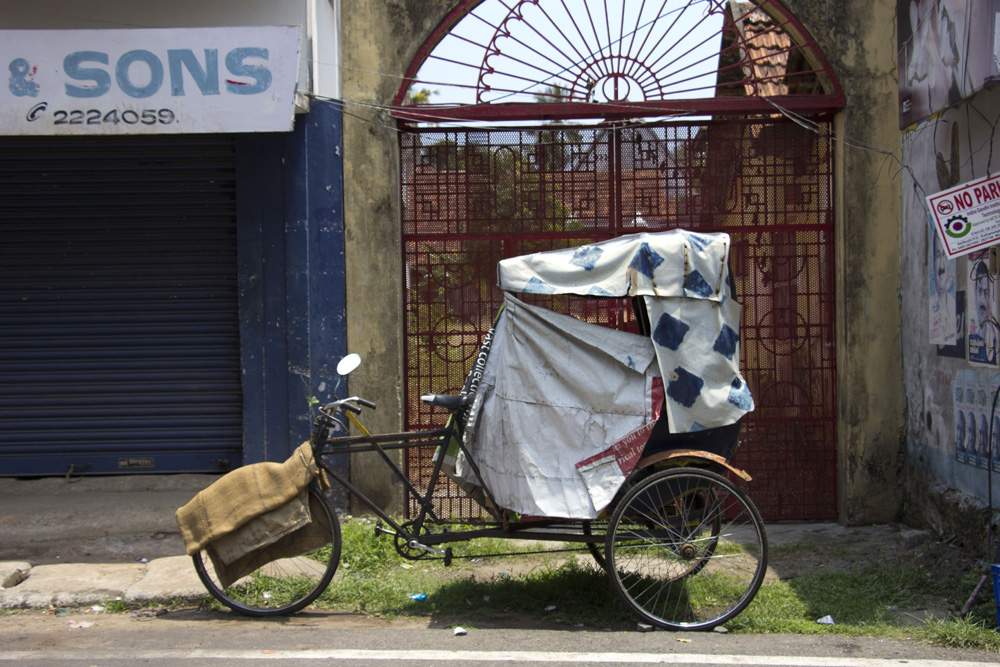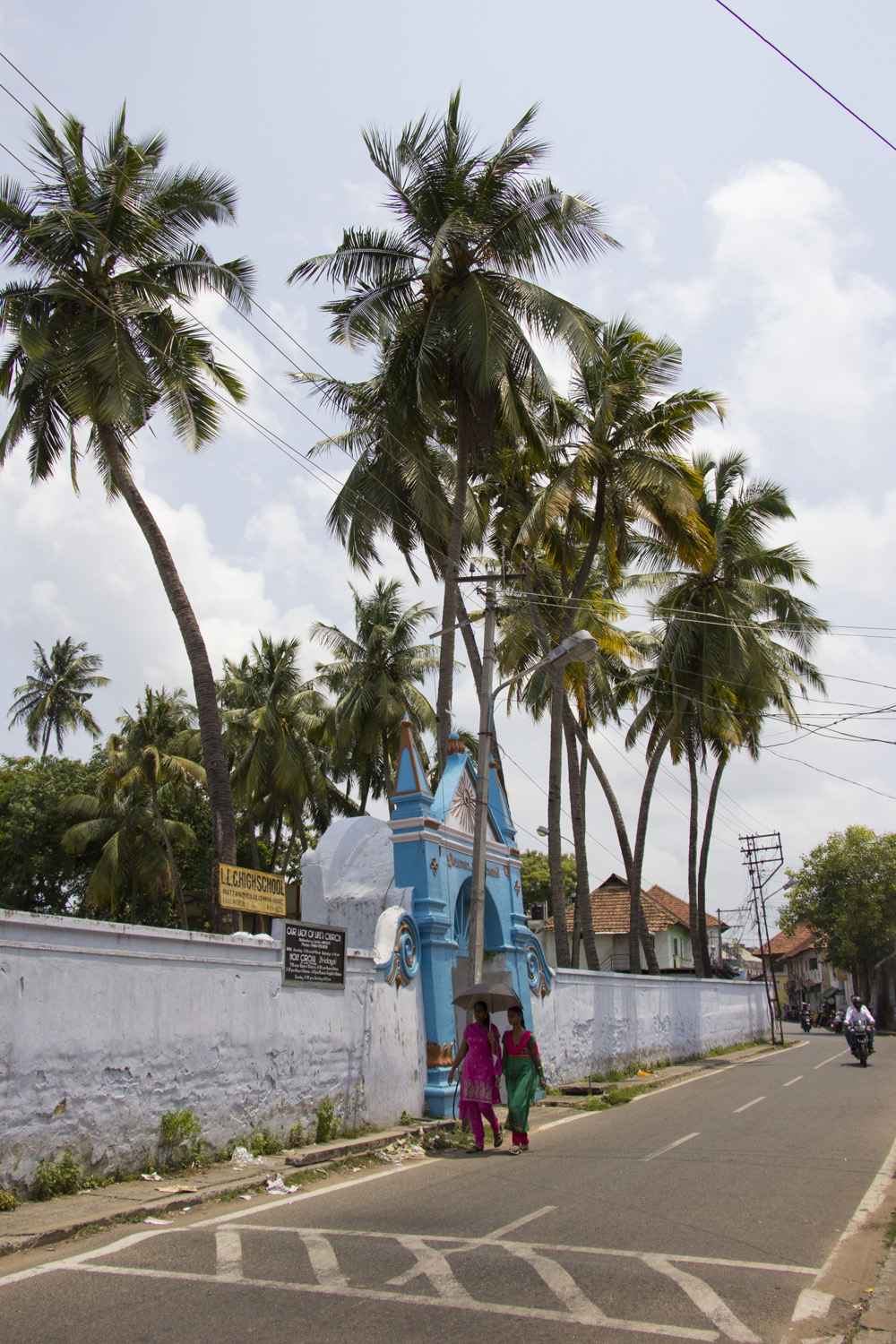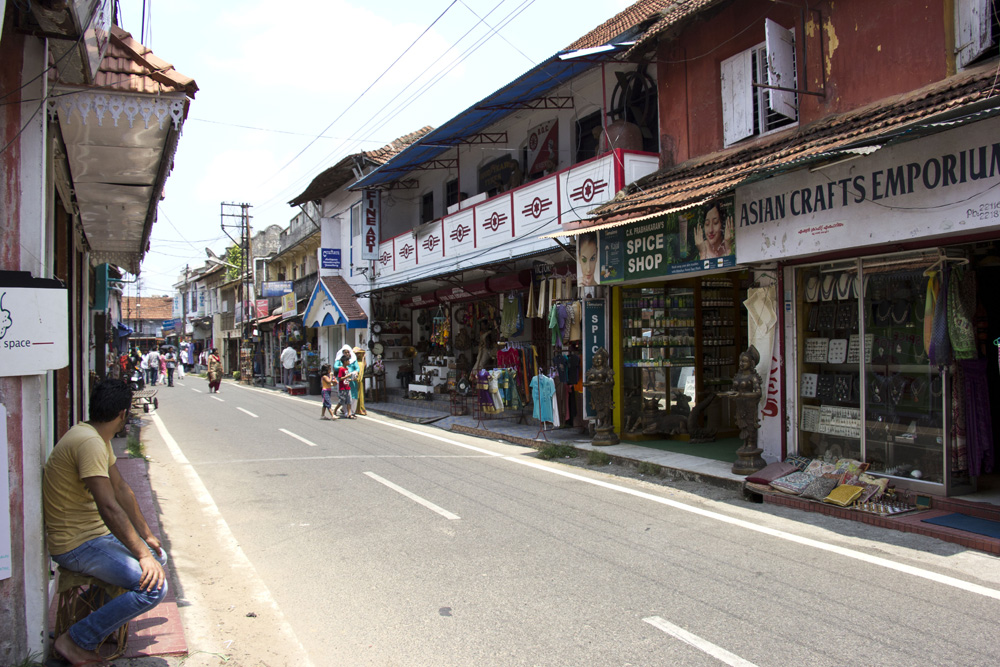 Jewtown Road shops.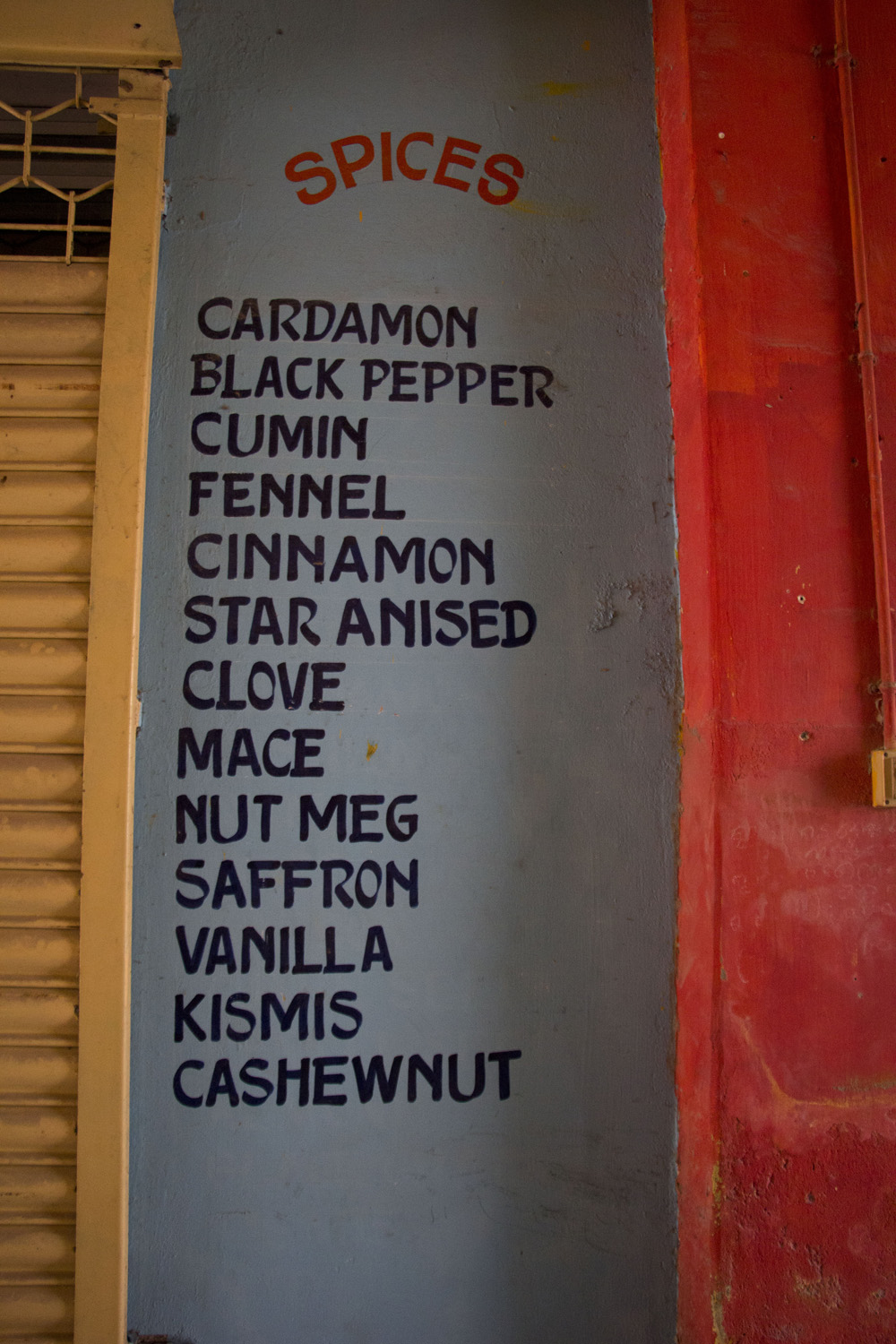 Colorful spice menu at the Mattancherry Spice Market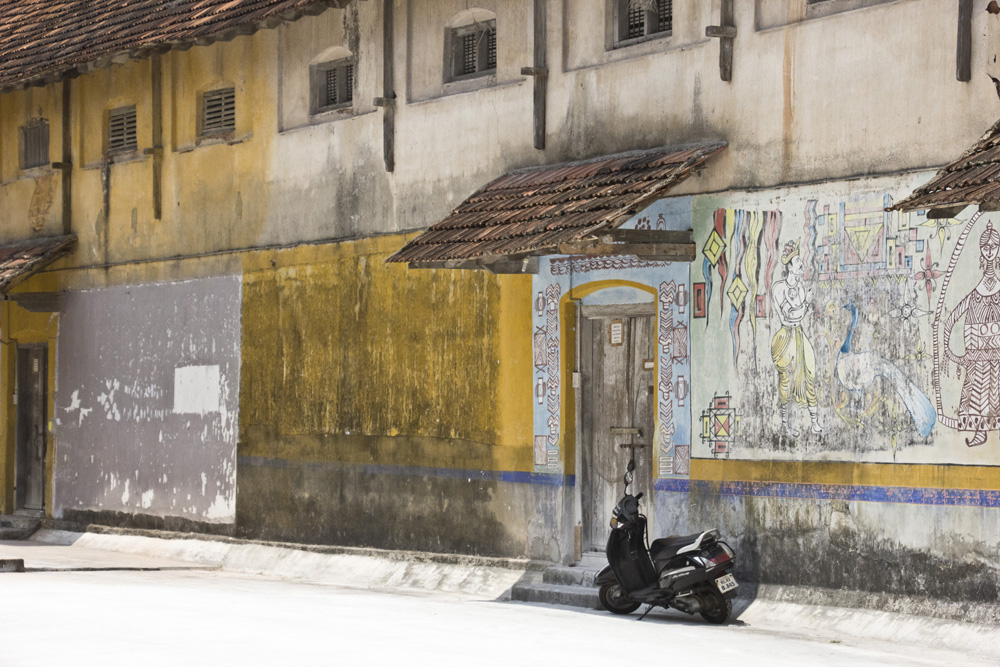 Weathered Murals
THE BACKWATERS
From Kochi, we transported ourselves away from the big city and landed far away amongst the palm trees and the water hyacinth of the Keralan backwaters.The backwaters  – not too dissimilar from the Lousiana bayou or the Everglades – was one of the more unique places I've been in the world. It was interesting to see the laid back way of life that exists on such tiny portions of land, all surrounded in rice paddies and waterways. (In contrast to the tight chaos that is the rest of India) The plethora of palm and banana trees as well as the intense humidity (off-season weather is intense and palpable here just like it was in Sri Lanka) are a constant reminder that the backwaters are definitely in the tropics. The bright colors of women's sari's and hung laundry are a reminder that this is definitely India.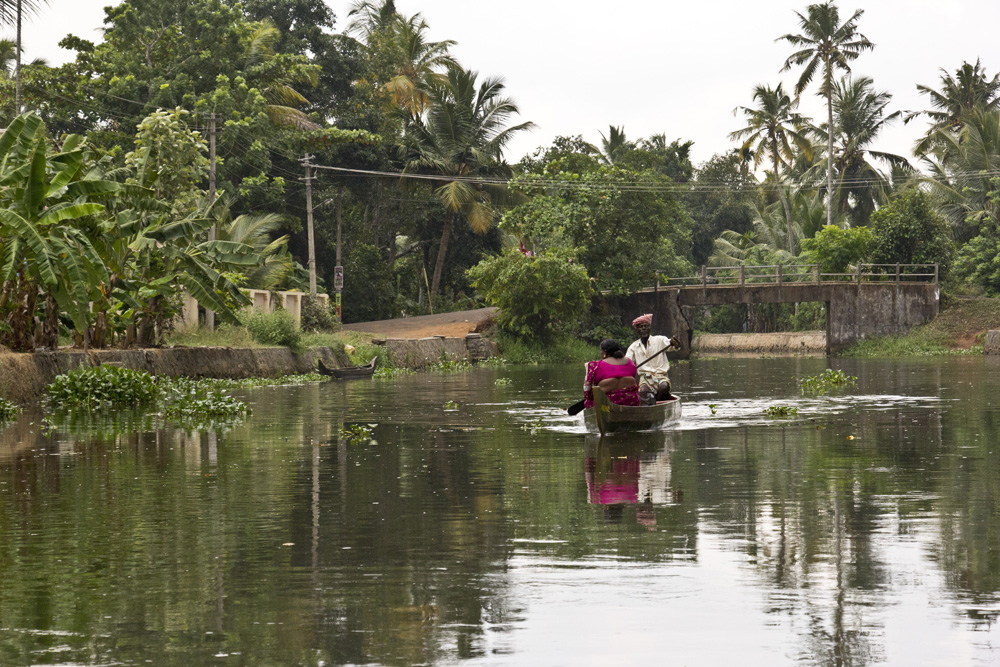 The most popular way to travel around the backwaters is to book a houseboat. The benefit of the houseboat is that you can sail around the canals to see lots of different areas instead of staying on land and only seeing one section. But the amount of houseboat traffic coupled with the pollution these boats undoubtedly drop into this already overtaxed ecosystem made us decide that a little eco-hotel would be a better fit for us. Sure, we may not cover as much ground, but we'd get to hike around nearby islands, take more intimate canoe trips in the smaller more narrow canals, and we'd feel just a little better about our carbon footprint. Our Lands was a perfect choice for us.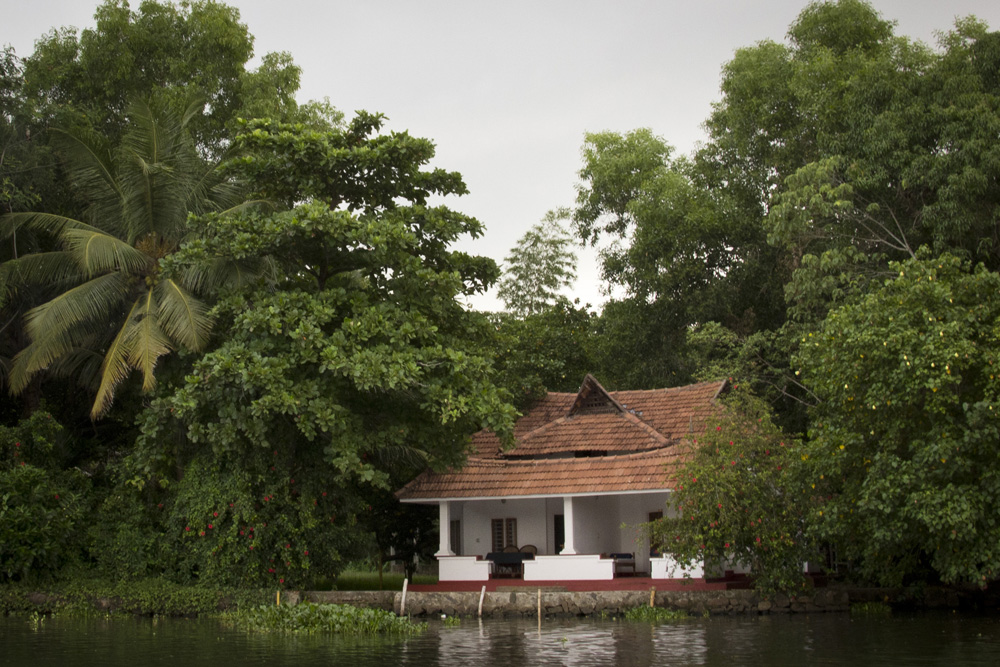 Our bungalow at Our Lands Resort in the Keralan Backwaters.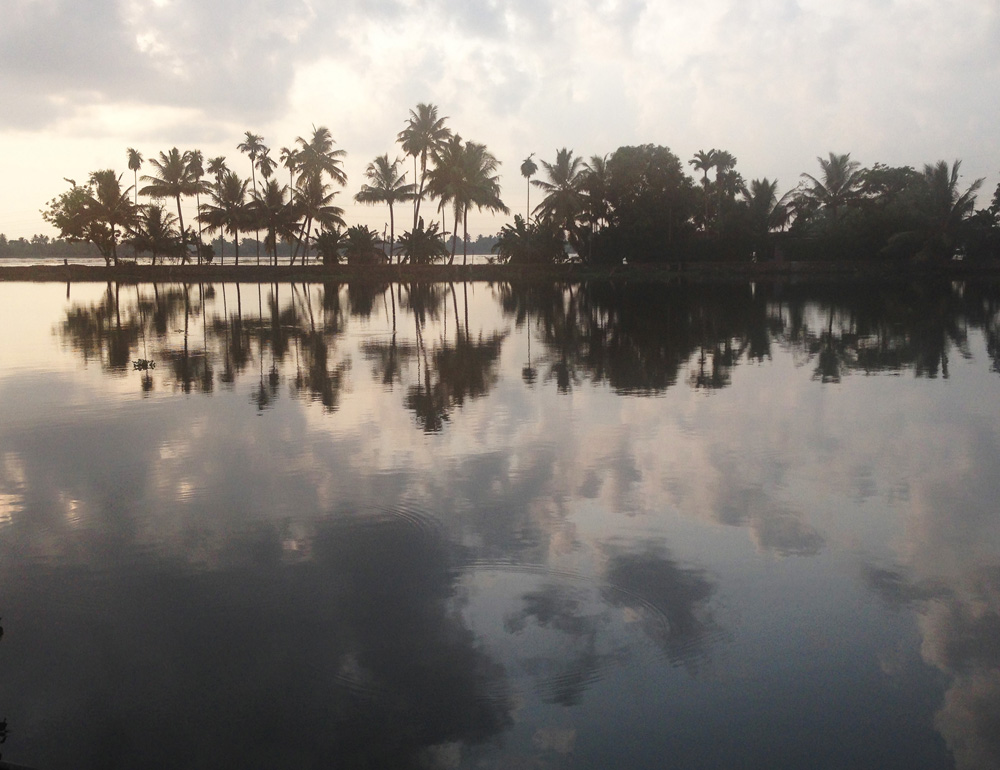 Morning reflections from our bungalow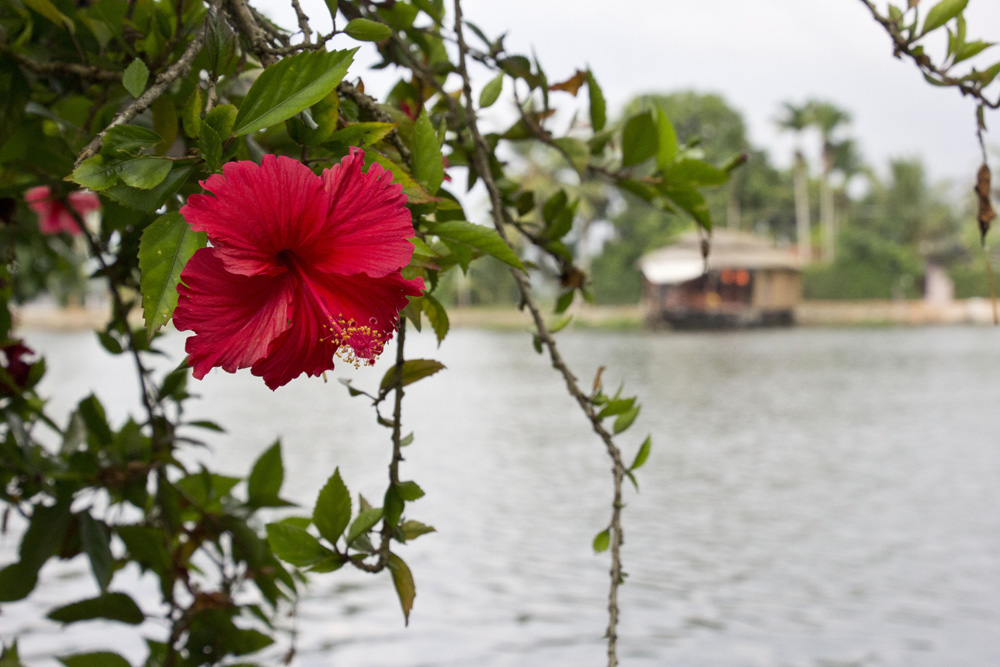 A red hIbiscus on our front porch
A quiet afternoon canoe ride through narrow canals.
In the morning, we took a walk through the neighboring villages and rice paddies to get a sense for local life and the environment, as well as to get our bodies moving and earning our breakfast.
Backwater rice paddies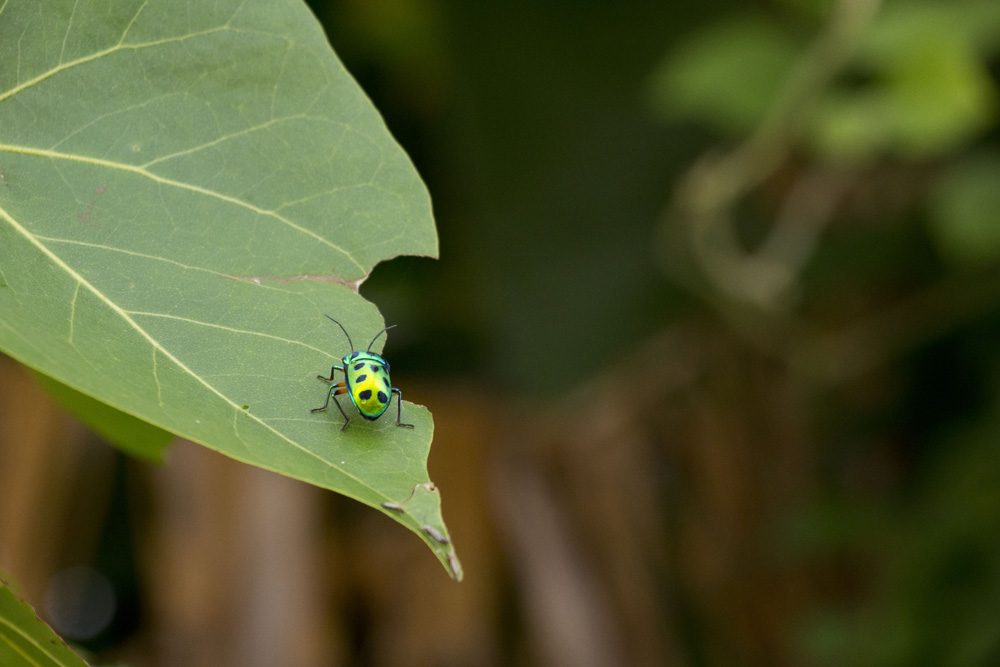 The prettiest insect I've ever seen.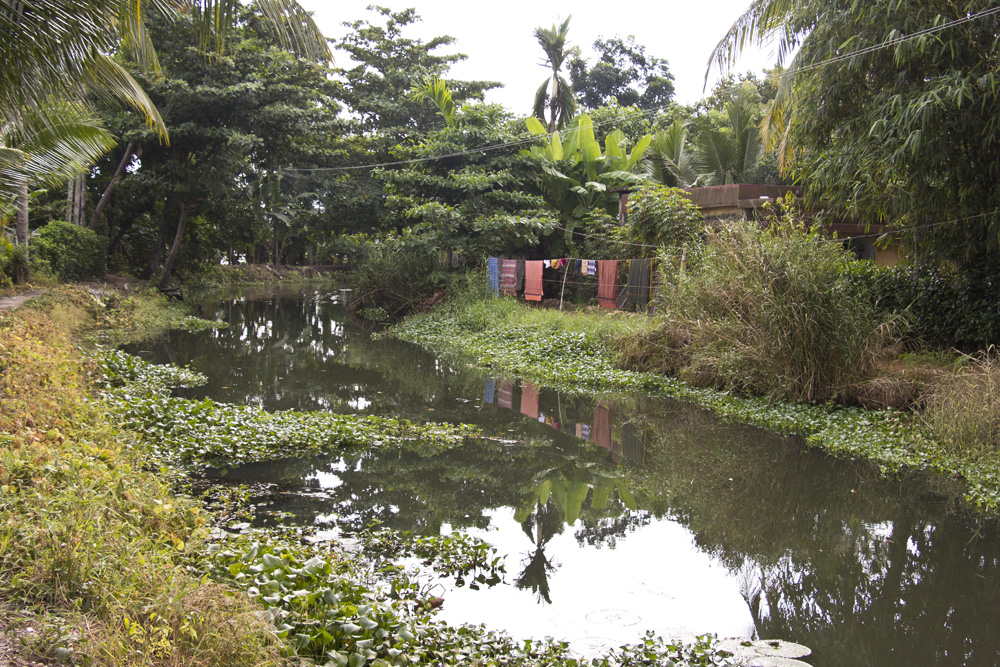 laundry on a line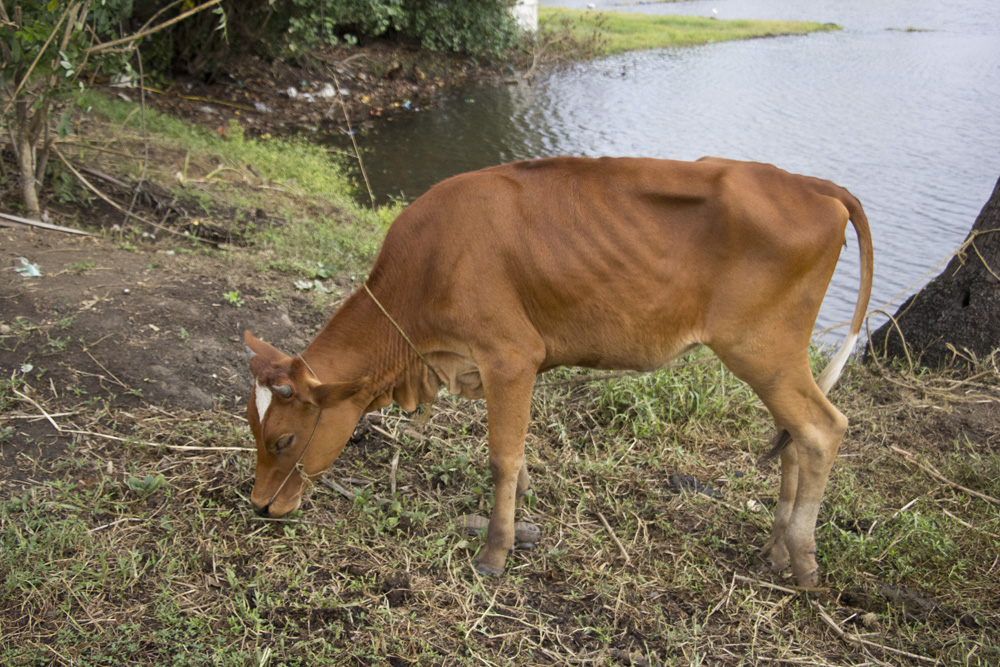 Cows arent as sacred in Kerala as they are in the rest of India as religion here is so varied, but they are quite vital to life in the backwaters nonetheless.
To make sure we were able to see more of the backwaters than only the immediate area around the resort, we opted to take the local ferry from a nearby village back to the hub town of Alleppey – the place where most houseboat operators and land transportation have travelers meet. Not only did this give us a slow and meandering tour of the backwater area, but it was the most colorful boat ride I've ever taken in my life – both due to our fellow riders as well as the scenery outside the boat.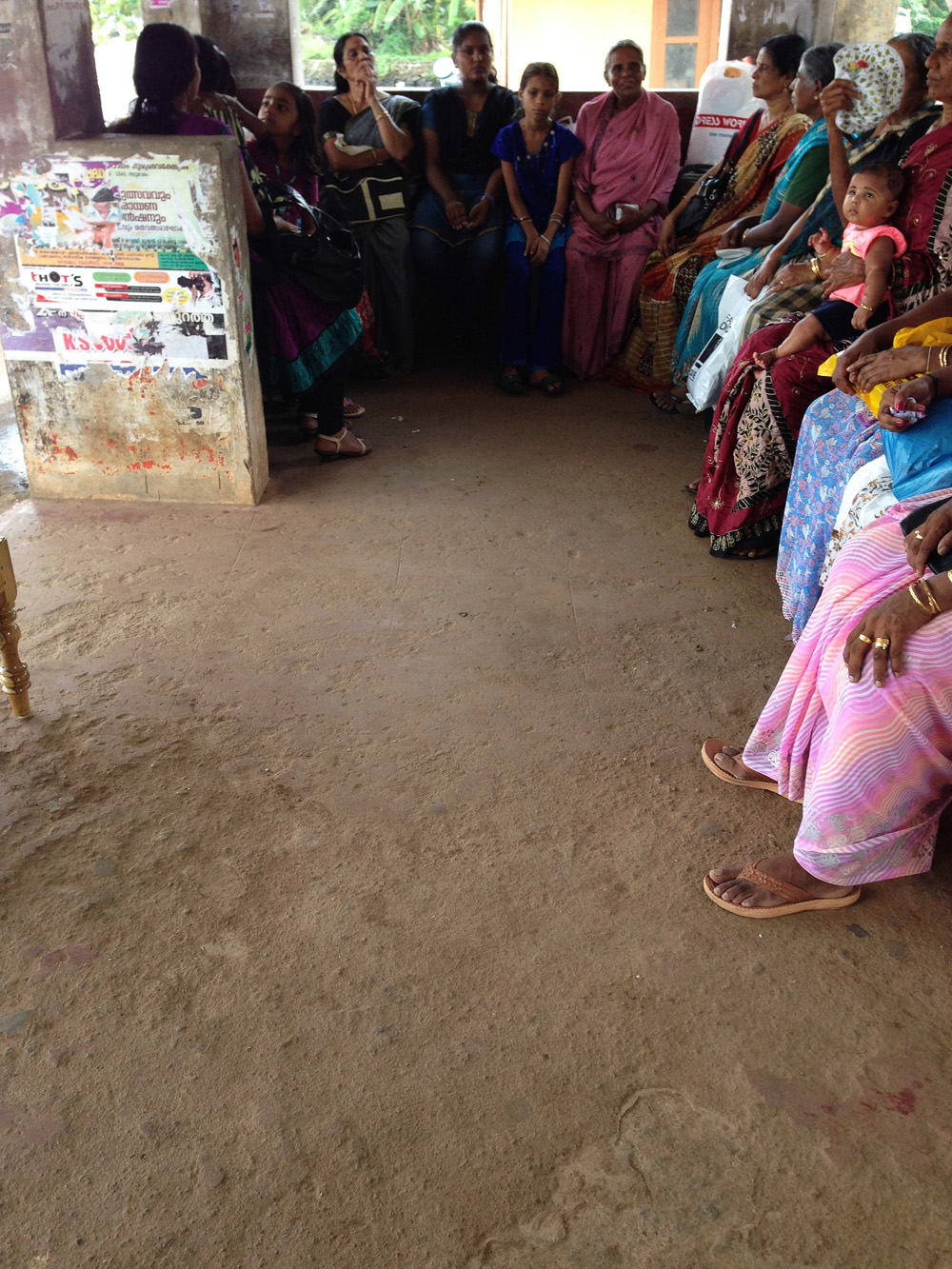 Waiting for the ferry…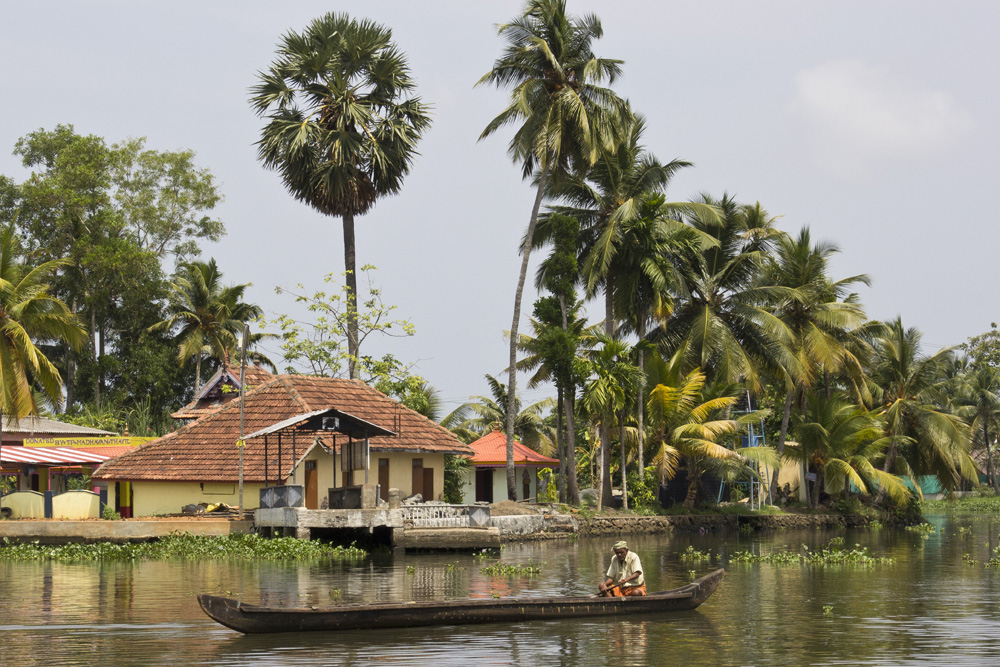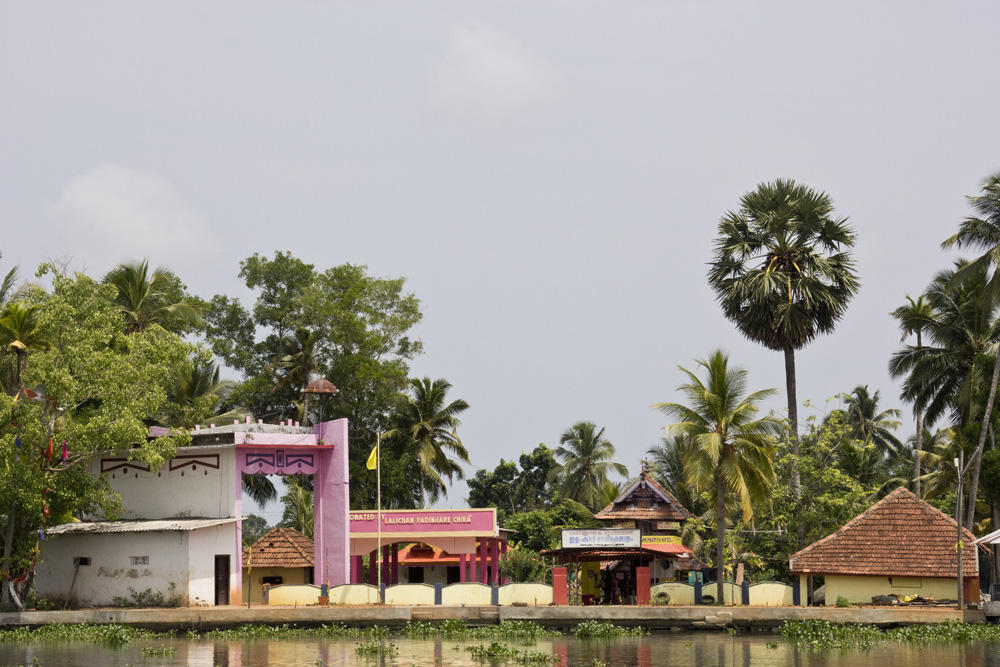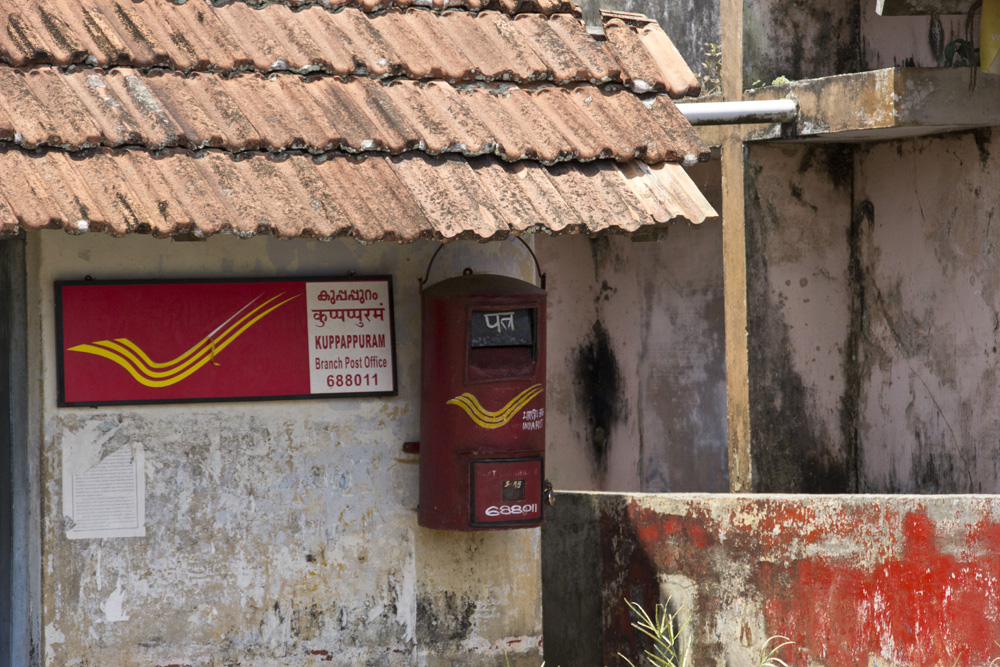 A local post office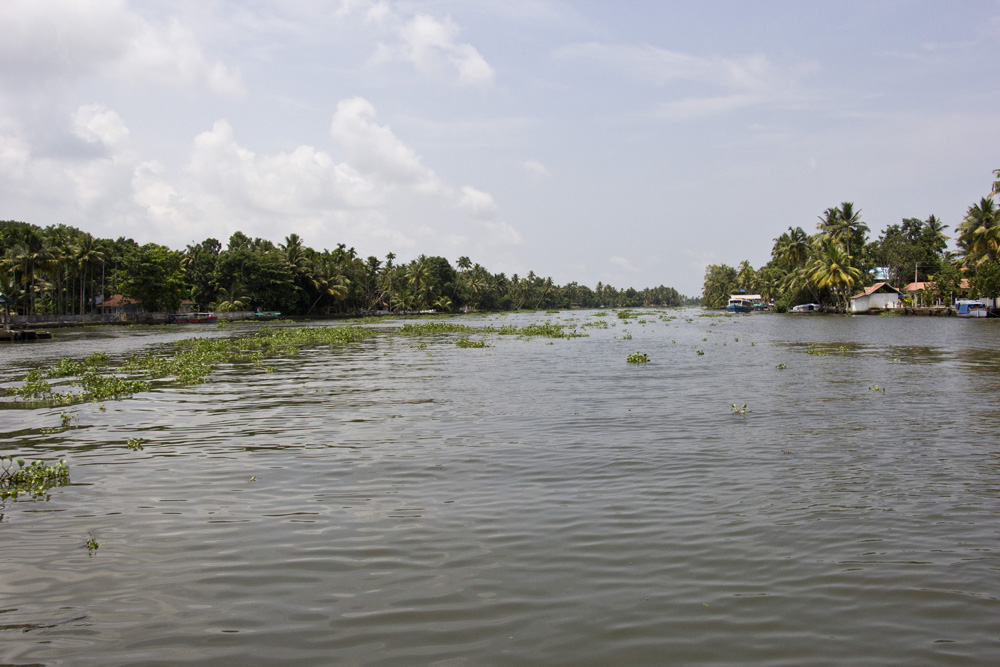 WIde canals like this one were littered with houseboat traffic closer to Alleppey.
Both of these Keralan destinations were easy to manage over just a few days and I'm glad to have experienced both. While this short trip only made my desire to explore India even stronger, I loved having the chance to experience both the chaos and color of the city as well as the natural. I'm not sure when I'll get back to India but when I do, I'll feel just a little more at ease thanks to a soft landing in God's Own Country.
indiakeralaoff seasonPhotography